IMPERIAL – Stands, businesses, worship music and pumpkin bowling marked the third fall festival at Imperial Community Church (ICC), named Fall for Jesus in its third installment on Saturday, November 6.
The church holds its annual fall event to "celebrate the love of Jesus Christ," said Pastor Jim Simpson.
"It's about using all of our strengths to effect change in our community," he said.
"You hear too much bad news, negativity, and we want to transcend that," Simpson said, "and in doing so, we want to love people without restraint. We want to accept and encourage people who are going through tough times… because COVID they feel left out, we want to make sure they know they are valuable and that there is a reason for them to be alive.
"We want to make sure people know that God loves them and that he has a plan for their lives," he said. "It's a good reminder (of this) for people who feel separate from this."
"The faith the Bible speaks of brings people together, it does not separate them," said Simpson. "It's a family, a relationship under Jesus Christ. Unity is really what it is.
Founder and event coordinator Kerstie Payne said Fall for Jesus has gone from an indoor festival two years ago and a drive-thru event in 2020 to an outdoor event this year for " show the love of God, spread his word and just give a big hug for the community. "
"The main reason (for the event) is Jesus," Payne said. "We all need to 'fall in love' with Jesus. "
"This is why this event exists: we want to glorify its name and share it with the community," she said, "to really emphasize kindness and love."
Payne said the 16 booths in total featured a mix of games, ministries and local businesses to accompany ICC's worship music team and event partners First Southern Baptist Church and Youth for Christ Imperial. Valley / Campus Life.
Event coordinator Laura Fried, who also coordinates the ICC Young Adult Bible Study with her husband, Emmet Fried, agreed.
"Jesus is the reason for the season, and we wanted people to fall in love with Jesus," she said, "and we thought if we came here and were ambassadors for Christ, we would help them. people to fall in love with Jesus. "
Fried said the children's play stations – which included a pumpkin bowling alley, a beanbag throwing game, a drawing station, and more. about the Imperial Community Church.
"I've seen people who aren't even from here… come from Arizona just for that," she said. "My mother went out and everyone brought their neighbor. It's essentially family-centered.
As the children played games, the worship team sang, and gifts were handed out, the coordinators hoped the event would accomplish what they planned.
"Fall for Jesus was really meant to share the love of Christ with the community," Fried said.
"We just want to make people smile, really," she said.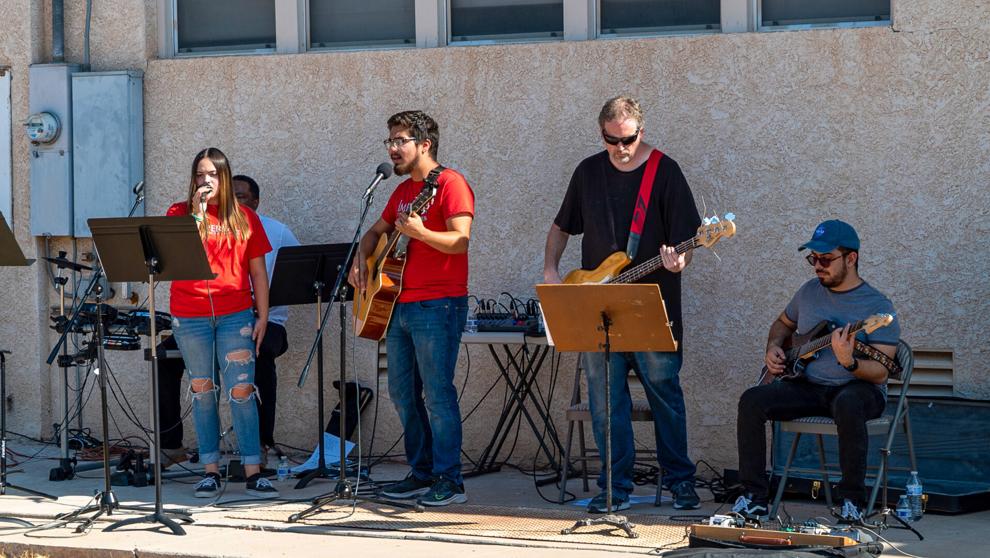 ---