FLAGSTAFF, Arizona – Students from Havasupai and Yavapai-Apache spent a few days at the Museum of Northern Arizona at the Pivot: Expressions of Hope workshop, where they learned about the healing process of art by creating their own art of skateboard.
Duane Koyawena and Landis Bahe, co-curators of the exhibition, were both on hand to share stories and inspirations with the students as they created their own personal works of art.
The workshops focus on how art and other creative outlets can be useful tools for dealing with stress, depression, or other issues that everyone faces. It was the third of the workshops organized by the museum. The first workshop attracted Hopi and Navajo youth and the second workshop attracted youth from Flagstaff and was sponsored by the Coconino Country Career Center.
All workshops were supported by NARBHA, Steward Health Choice and MNA. Fratelli's donated pizzas for the art workshops.
One of Havasupai's students, Dawnae DeRoche, 17, said she's been out of the canyon before, but never been to the museum and was rarely in Flagstaff. Most of the time, she said, she goes in the opposite direction, towards Kingman.
She said it had been a great day.
"I felt really awesome," she said. "I think it went pretty well (referring to his skateboard). It came out better than I expected. "
She said she found random things to put on her board and then added some color.
Dawnae has painted before – she finished a painting for her arts teacher, which hung in the classroom. She said she loved painting.
"I think the art is really great," she said. "It's really calming."
Although Dawnae does not consider herself to be an artist, she did say that her father was the artist in the family, that she watched him and that she used some of that knowledge in the design of his skateboard.
"I love this place, it's really big (in reference to the museum)," she said.
Dawnae said others who wish to participate should join us.
"Do whatever you want to do with your art, come see the museum," she said. "I'm told they have some of our (Supai) art in the museum here. I did not know.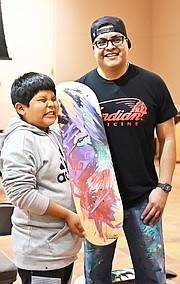 Ellis-Ray Uqualla, 10, said he's already exited the canyon for Flagstaff, Kingman and Laughlin but never been to the museum.
Ellis-Ray said he thought the day was pretty great. He is half Hopi and his board reflected certain Hopi symbols and designs. He said his board and the colors he used reflected what he had in mind and that's what he painted.
Ellis-Ray explained why the painting was nice.
"It's like showing your feelings," Ellis-Ray said.
Holly Figueroa is the Tribal Services and Cultural Competency Administrator for Steward Health Choice Arizona. She was with the students and the MP for the workshop.
"Being a part of Pivot has really helped bring that component of mental health and really being able to process feelings, emotions and behaviors through art," Figueroa said. "Often young people don't necessarily have the words to express what they feel or what they want to say, so art is an outlet for that. "
Figueroa said that letting children know that feelings and emotions are natural and letting children know they can ask for help are important parts of what she does and what Pivot has. made for children.
"Pivot has been a really good platform to have this piece," she said. "It helped them understand that feelings and emotions are normal and natural and that it's okay. And reducing the stigma around mental health and mental illness is huge. "
The workshops create an opportunity to sit down and talk openly about these issues, just like people do with their physical health, it's good for children.
"Why don't we talk about our mental health? Why don't we promote positive mental health, "she asked. "Pivot has been a great opportunity to start these conversations with the young people. Hopefully they are able to take some of that and some of the skills and tools that we talk about as a group and put some of it on their boards. "
Figueroa said during the workshop they talked about how to deal with stress, the impact of stress on young people. They recognized the feelings of children and the fact that young people are stressed.
"It's a really great opportunity to recognize young people and they know they matter and we recognize it",
said Figueroa. "And they have a support system of people who are willing to understand, recognize, and validate some of the feelings and experiences they have, whether good or bad."
Being part of a group helps children, Figueroa said, because children then know that there are other people who have had the same experience who they can reach out to.
"They can be support systems for each other," she said.